Posted by Bullion Shark on Oct 29th 2021
For coin collectors, nothing is more exciting than being the person who discovers a new, rare and valuable error piece, especially a coin that was not supposed to exist and whose origin is hard to explain.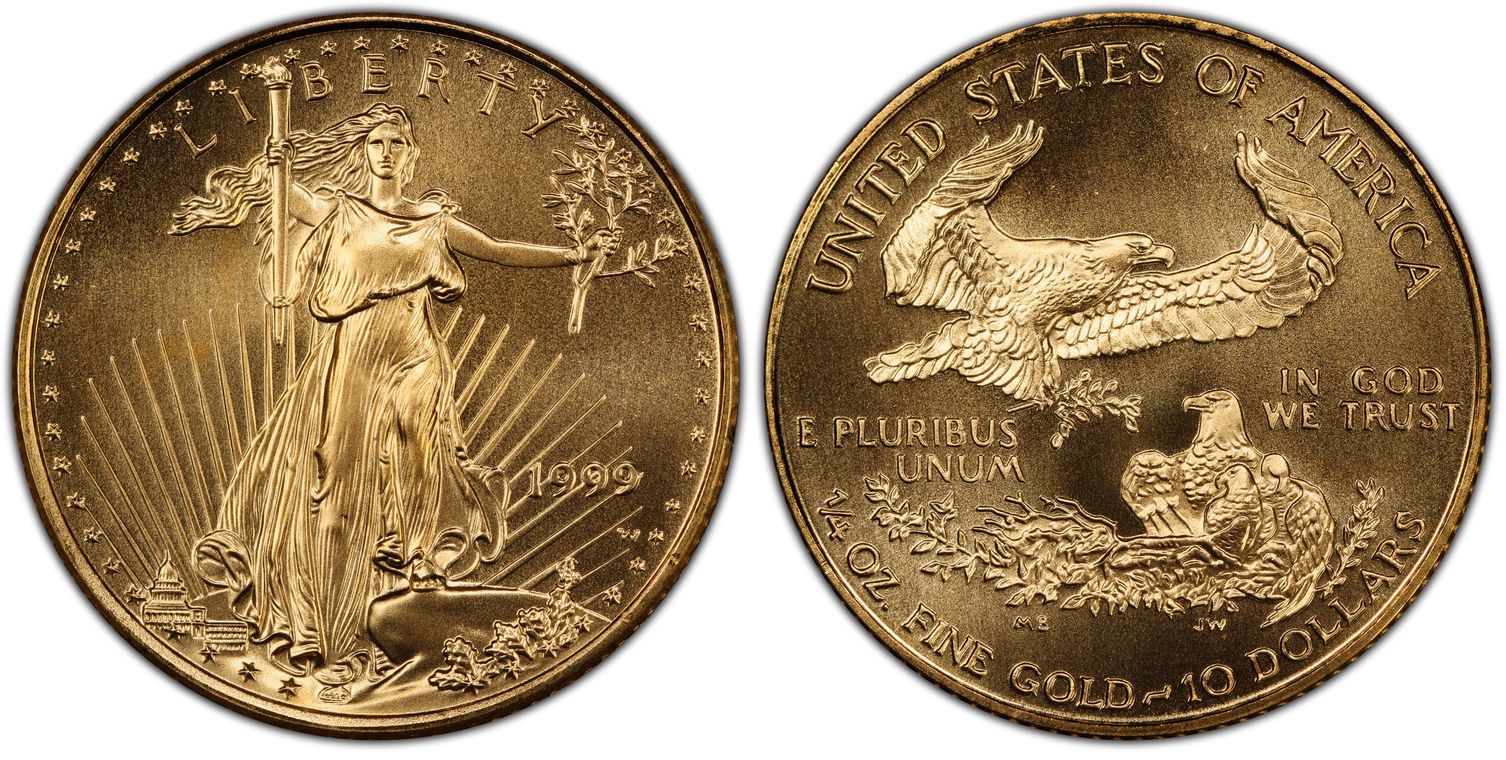 Making numismatic history is both exciting and often very profitable! And such discoveries alert other collectors that they too might have an example of the error.
That is what happened recently to Gerald Medel of California who while looking through a large number of 2021 $10 American Gold Eagle bullion coins of the new, type 2 reverse that were released earlier this year found some of those coins to have "W" for West Point mint marks.
In fact, this happened as he was live on his Instagram account while opening a roll of the type 2 $10 gold bullion pieces!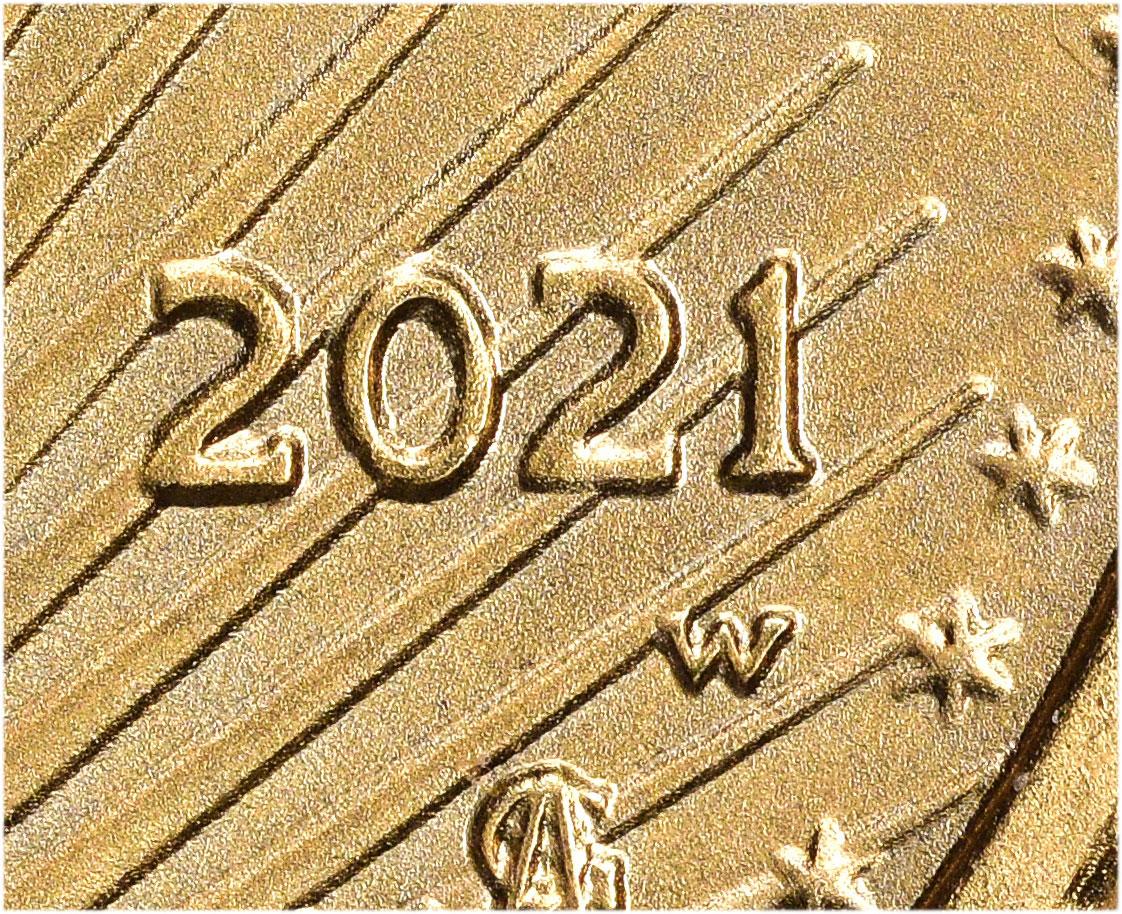 Normally, only Proof coins struck at that mint carry those mint marks when it comes to the popular Gold Eagle coins with the exception of the fractional burnished uncirculated coins issued as part of this series from 2006 to 2008 that also carry "W" mint marks.
Back in 2000, $5 and $10 Gold Eagle bullion coins that also had "W" mint marks were discovered, and it turned out that those coins were struck accidentally from unfinished Proof dies that had not received a coating that gives Proofs their highly reflective appearance, making their finish appear like that of regular bullion pieces.
Those 1999 error coins, which are believed to number no more than 10,000 for each size of Gold Eagle have emerged as major, highly sought and rare error coins in the Gold Eagle series. And examples of those 1999 coins that have received MS70 grades from PCGS and NGC number respectively 70 and 110 for each grading service. That is likely because bullion coins do not receive the careful treatment during production and shipping that Proofs do.
Like the 1999 coins, the new discovery is what is known as a mule error, which is a coin that combines dies that were not intended to go together.
After Medel studied his coins and found some die state differences between the 61 examples of the error coins, he had them graded by PCGS, which said they were also from unfinished Proof dies like the 1999 coins. They also labeled any of the 40 coins from a full roll with the same error as "Discovery Roll" coins.
However, at the moment the 2021 pieces appear to be substantially rarer than the 1999 coins given that as of today a total 63 examples (two found by someone else after the story broke) of the new error have been found compared to almost 6,000 that have been graded by PCGS and NGC (about 3,000 for each service) of the 1999 $10 W mint mark coins. NGC estimates that about 2.2% of the overall mintage of the 1999 $10 error were made.
Of course, the number of examples of the newly discovered error is expected to change over time as perhaps more of those coins are found by people who own the 2021 $10 Gold Eagle with type 2 reverse who have not yet searched through them to see if any have W mint marks. To date the Mint has sold 94,000 of these coins.
In addition, as the news of this amazing find spreads in the numismatic community, it will naturally be noticed by officials at the U.S. Mint who, as they have done in the past when such situations arose, are likely to work to ensure that no more such pieces leave the Mint be carefully checking all type 2 $10 Gold Eagle bullion coins.
As for how much the 2021 Gold Eagle error coins are worth, that is also hard to estimate today and is likely to change over time. But experts Medel consulted told him they think that MS70 examples are worth at least $10,000 and that MS69 coins are probably worth at least several thousand dollars each!
Keep in mind that as ¼-ounce gold bullion coins, a regular example has about $450 worth of gold in it based on current spot of around $1800 and costs about $550 in the current market factoring in premiums for those coins.
The 1999 errors that are similar today go for about $10,000 in MS70.The highest price paid at auction was in 2016 when an MS60 sold for $11,750.
As for how the new error could have been made, there is just no way to know now, but perhaps once the Mint learns about these coins, they will provide some details as they eventually about the 1999 coins when the Mint revealed information that helped experts estimate how much such coins might exist.
Most experts attribute the 1999 West Point unfinished Proofs to the fact that feverish demand existed for gold bullion at the time because of the impending "Y2K" computer issue (computers that existed at the time had not been programmed to implement the change from the year 1999 to 2000, which many experts believed could have catastrophic consequences on all kinds of computer systems), which also led some people to develop a kind of doomsday mentality. That view included those who thought they would need plenty of gold bullion once the economy collapsed.
Of course, as we know, that did not happen, but it did result in a big spike in the demand for gold then as is also happening now largely because of the pandemic and the economic situation, including rising inflation. And those conditions that have resulted in massive demand for gold may also have contributed to the making of the 2021 errors, especially when one also factors in the changeover in reverse designs for these coins that happened in the late spring.
The moral of this story is that it pays to look at your coins closely and check to see if there is something different about them from other coins of the same type you have seen.